Syntax
---
Hello, I am Syntax and I am one of the writers here at the Academy website. This page is a place where I can easily provide myself and others info on computing stuff I find useful.
Hardware
---
Below is a list of the computer rigs I have owned over the years and the hardware they use. Strikeout denotes dead/removed hardware, the red year at the end denotes the year the piece was purchased.
---
SynTop'15 Laptop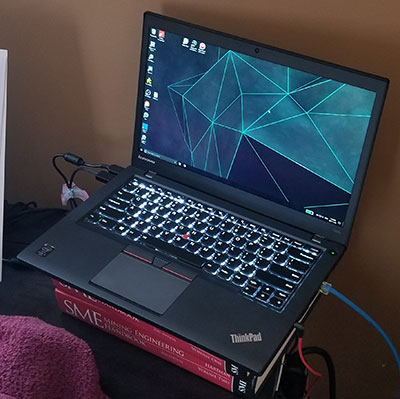 SynTop'15
Lenovo ThinkPad T450s purchased on June 2, 2015. Picking out SynTop'15 was like a 6 month process - was searching for a replacement laptop to retire SynTop'08 as I wasn't really trusting that old rig any more to do live shows in front of actual audiences. Quite a size difference between this and my old laptop. Paid a total of $1,250 for the laptop + a $300 rebate from work.. came in at just under a grand.
OS: Microsoft Windows 10 x64
CPU: Intel Core i5-5300U
Battery:

3 cell 23.2Wh Front
3 cell 23.2Wh Rear

Display: 14.0 FHD IPS WWAN
RAM: 12GB *4/MB + 8/DIMM) DDR3L_1600
Video: Intel Gfx i5-5300U
Storage

500GB HDD 7200rpm
16GB M.2_SSD Single

Wireless

Intel 7265AC+BT 2x2
WWAN upgradable

Other

720p HD Camera
3rd M.2 SSD Slot
Backlit Keyboard
---
SynPC'12 Desktop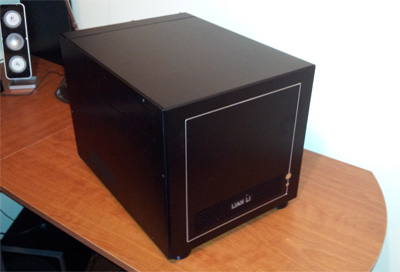 SynPC'12 in 2012
SynPC'12 was planned out for about 3 to 4 weeks before part arrival and assembly on June 6th, 2012. The build was great fun, took about 4 hours, and was the first time I did one since SynPC'02 - 10 years! Build pictures here!
OS: Microsoft Windows 10 x64
Case: LIAN LI PC-V352B Black Aluminum MicroATX
CPU: Intel Core i5-3550 Ivy Bridge 3.3GHz (3.7GHz Turbo) LGA 1155
Display (dual, vertical)

21" Acer X223W LCD - 1680x1050

2009

21" LG 22EA63 LED - 1920x1080

2014

Motherboard: ASUS P8Z68-M Pro LGA 1155
PSU: Thermaltake TR2 W0070RUC 430W
RAM: CORSAIR Vengeance 16GB (4 x 4GB) 240-Pin DDR3
Sound: Sound Blaster X-Fi HD (external)
Video: EVGA 01G-P3-1556-KR GeForce GTX 550 Ti (Fermi) FPB 1GB 192-bit
Storage

Hard Disk Drives:

OCZ Vertex 3 VTX3 120GB (SSD, internal)
WD Green WD20EZRX 2TB (internal)
WD Passport 500GB (external)

External Media:

Peripherals

Corsair K70 RGB Keyboard
Corsair M65 RGB Mouse
---
SynTop'08 Laptop
(Retired)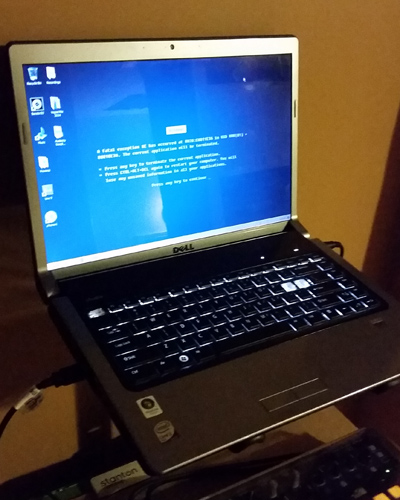 SynTop'08 in 2014
Dell Studio 15 (1535), ordered online in August of 2008. When I originally ordered it, I pretty much maxxed out all the hardware as much as I could. It even came with a copy of Microsoft Works and Dell Video Chat! The laptop had a good run for a little under 4 years - worked great for me through my last few years of University. The laptop battery was completely dead and held no charge, and the webcam failed probably 6 months into owning it. Some The Boze got spilled on the keyboard at a party and the keys were sticky for about 2 years. It was also have major problems playing any sort of games or CPU intensive programs so that is why SynPC'12 was commissioned.
Update 1: 2012 October - laptop back into full use as a DJ laptop. While it was in service, it performed quite well! Re-retired in June 2015
Update 2: 2016 July - Recommissioned as a server / data backup computer. Putting that hard drive to use!
Update 3: 2017 September - Retired for the final time. No longer required for backup.
CPU: Intel Core 2 Duo T5750 (Running at 4GHz total)
Battery:

56 WHr 6-cell Lithium Ion

2008-2012

56 WHr 6-cell Lithium Ion

2012-current

Display: 15.4" Glossy - 1280x800
OS:

Microsoft Windows Vista Home Premium

2008-2012

Microsoft Windows 7 Home Premium x64 SP1

2012

RAM: 4GB DDR2, 667MHz 2 Dimm
Video: ATI Mobility Radeon HD 3450 w/ HDMI Output
Storage

Hard Disk Drives:

Western Digital Scorpio SATA - 320GB, 5400RPM

External Media:

CD: 6X Slot Load Bluray ComboDrive (Bluray Read Only)

Other

Integrated 2.0M Pixel Webcam

2009

Integrated Finger Print Reader
Integrated High Definition Audio
---
SynPC'02 Desktop
(Retired)
SynPC'02 Desktop computer was originally purchased and assembled in July 2002. Since then, many parts and pieces have been replaced and added due to them dying and what-not. For the most part, at the end of it's run, most of the original components were still in working order and running great.
As of June 2009, it is out of commission. All the parts have been stripped and scrapped. RIP!
CPU: AMD Athlon XP 1700+ (Running at 1.47GHz)

2002

Display: Samsung SyncMaster 750S (17") CRT Monitor

1999

Motherboard: Gigabyte GA-7VRXP KT333

2002

OS: Microsoft Windows XP Home Edition (2002) SP2
RAM: 4x256MB DDR = 1024MB total.

2002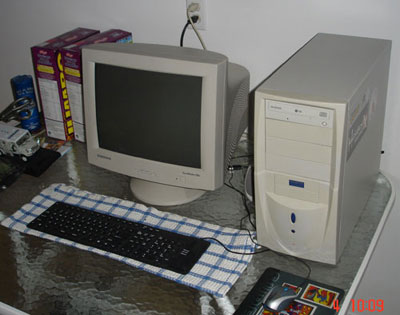 SynPC'02 in 2009
Speakers:

Koss SWEL/115

2003

Logitech Z-4

2008

Video:

Geforce4 MX 440

2002

Radeon 9800 SE

2006

(Running Latest Omega Drivers)

Input

Keyboard:

Logitech Internet Navigator

2003

Microsoft Digital Media Pro

2007

Mouse:

Logitech MX 500

2002

Microsoft Comfort Optical Mouse 1000

2007

Storage

Hard Disk Drives:

Western Digital Caviar SE (80GB)

2006

Maxtor DiamondMax (20GB)

1999

External Media:

CD: LG GCE-8525B CDRW 52X32X52x

2002

Floppy: removed

1999
---
Software
---
Below is a list of software I use / support. It's more of a personal list, but can benefit others. :D
General Software
7zip (Zip)
ATI Tray Tools (Display/Video)
WinSCP (FTP): Best FTP client available.
Notepad++ (Text Editor): Edit everything. PHP, HTML, RWX... everything.
F.lux: Makes your computer monitor easier on the eyes.
Process Explorer (System): See what is running on your computer at any given time in tree-view.
SIW (System): System Information for Windows.
Serato DJ: Best DJ software available today.
Winamp (Media Player)
Skype (IM): MSN/WLM went to shit. Have no choice but to use this. All my friends and family are on it, too. Shitty program.
Active Worlds
AW Enhanced: Essential software; makes Alphaworld stomach-able.
Chatbot: Basic chatbot.
YASBB: "Yet Another Survey/Building Bot", great for quick object updates that would normally be a repetitive, boring task.
Modeling
See also
---