Syntax
---
Hello, I am Syntax and I am one of the writers here at the Academy website. This page is a place where I can easily provide myself and others info on computing stuff I find useful. All the computers listed here are better than that junk listed over on vornox's profile.
Hardware
---
Below is a list of the computer rigs I have owned over the years and the hardware they use. Strikeout denotes dead/removed hardware, the red year at the end denotes the year the piece was purchased.
---
SynPC'19 Desktop
TBA
Slated to build in August 2018 Q1 2019 Q2 2020! PCPartPicker URL to be here soon!
---
SynTop'15 Laptop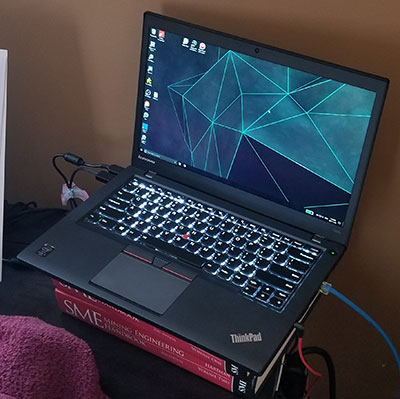 SynTop'15
Lenovo ThinkPad T450s purchased on June 2, 2015. Picking out SynTop'15 was like a 6 month process - was searching for a replacement laptop to retire SynTop'08 as it was pretty close to being unusable. Quite a size difference between this and my old laptop. Paid a total of $1,250 for the laptop + a $300 rebate from work.. came in at just under a grand.
Specs
OS: Microsoft Windows 10 x64
CPU: Intel Core i5-5300U
Battery:

3 cell 23.2Wh Front
3 cell 23.2Wh Rear

Display: 14.0 FHD IPS WWAN
RAM: 12GB (4 GB onboard + 8 GB DIMM) DDR3L 1600 MT/s (DIMM upgradable to 16 GB)
Video: Intel Gfx i5-5300U
Storage

500GB HDD 7200rpm

2015-2018

1TB SSD Samsung 850 EVO 2.5" SATA III 3D NAND (MZ-75E1T0B/AM)

2018

16GB M.2_SSD Single
3rd M.2 SSD Slot (Type 2422)

Wireless

Intel 7265AC+BT 2x2
WWAN upgradable

Other

720p HD Camera
Backlit Keyboard

Streaming Peripherals
---
SynPC'12 Desktop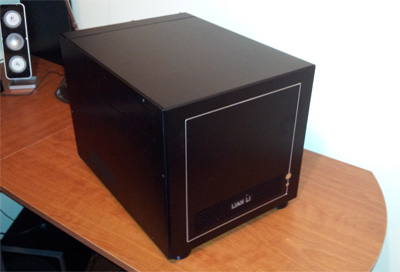 SynPC'12 in 2012
SynPC'12 was planned out for about 3 to 4 weeks before part arrival and assembly on June 6th, 2012. The build was great fun, took about 4 hours, and was the first time I did one since SynPC'02 - 10 years! Build pictures here!
Specs
OS: Microsoft Windows 10 x64
Case: LIAN LI PC-V352B Black Aluminum MicroATX
CPU: Intel Core i5-3550 Ivy Bridge 3.3GHz (3.7GHz Turbo) LGA 1155
Display (dual, vertical)

21" Acer X223W LCD - 1680x1050

2009

21" LG 22EA63 LED - 1920x1080

2014

Motherboard: ASUS P8Z68-M Pro LGA 1155
PSU: Thermaltake TR2 W0070RUC 430W
RAM: CORSAIR Vengeance 16GB (4 x 4GB) 240-Pin DDR3
Wireless: Qualcomm Atheros AR5008x
Sound: Sound Blaster X-Fi HD (external)
Video: EVGA 01G-P3-1556-KR GeForce GTX 550 Ti (Fermi) FPB 1GB 192-bit
Storage

Hard Disk Drives:

OCZ Vertex 3 VTX3 120GB (SSD, internal)
WD Green WD20EZRX 2TB (internal)
WD Passport 500GB (external)

External Media:

Peripherals

Corsair K70 RGB LED Mechanical Keyboard - Cherry MX Brown
Corsair M65 RGB Laser Mouse
---
SynTop'08 Laptop
(Retired)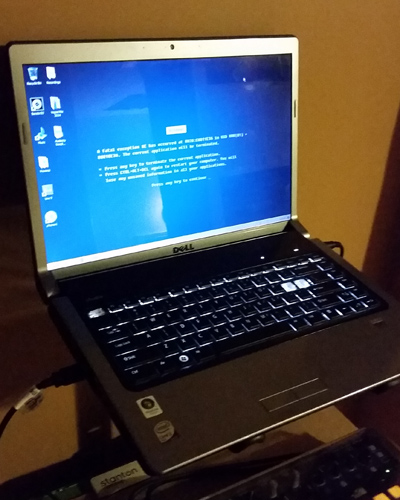 SynTop'08 in 2014
Dell Studio 15 (1535), ordered online in August of 2008. When I originally ordered it, I pretty much maxxed out all the hardware as much as I could. It even came with a copy of Microsoft Works and Dell Video Chat! The laptop had a good run for a little under 4 years - worked great for me through my last few years of University. The laptop battery was completely dead and held no charge, and the webcam failed probably 6 months into owning it. Some The Boze got spilled on the keyboard at a party and the keys were sticky for about 2 years. It was also have major problems playing any sort of games or CPU intensive programs so that is why SynPC'12 was commissioned.
2012 October - laptop back into full use as a DJ laptop. While it was in service, it performed quite well! Re-retired in June 2015
2016 July - Recommissioned as a server / data backup computer. Putting that hard drive to use!
2017 September - Retired for the final time and officially shelved. No longer required for backup.
2018 November - Dismantled and scrapped. RIP.
Specs
CPU: Intel Core 2 Duo T5750 (Running at 4GHz total)
Battery:

56 WHr 6-cell Lithium Ion

2008-2012

56 WHr 6-cell Lithium Ion

2012-current

Display: 15.4" Glossy - 1280x800
OS:

Microsoft Windows Vista Home Premium

2008-2012

Microsoft Windows 7 Home Premium x64 SP1

2012

RAM: 4GB DDR2, 667MHz 2 Dimm
Video: ATI Mobility Radeon HD 3450 w/ HDMI Output
Storage

Hard Disk Drives:

Western Digital Scorpio SATA - 320GB, 5400RPM

External Media:

CD: 6X Slot Load Bluray ComboDrive (Bluray Read Only)

Other

Integrated 2.0M Pixel Webcam

2009

Integrated Finger Print Reader
Integrated High Definition Audio
---
SynPC'02 Desktop
(Retired)
SynPC'02 Desktop computer was originally purchased and assembled in July 2002. Since then, many parts and pieces have been replaced and added due to them dying and what-not. For the most part, at the end of it's run, most of the original components were still in working order and running great.
June 2009 - Officially out of commission. All the parts have been stripped and scrapped. RIP.
Specs
CPU: AMD Athlon XP 1700+ (Running at 1.47GHz)

2002

Display: Samsung SyncMaster 750S (17") CRT Monitor

1999

Motherboard: Gigabyte GA-7VRXP KT333

2002

OS: Microsoft Windows XP Home Edition (2002) SP2
RAM: 4x256MB DDR = 1024MB total.

2002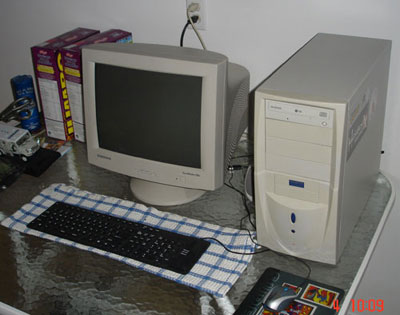 SynPC'02 in 2009
Speakers:

Koss SWEL/115

2003

Logitech Z-4

2008

Video:

Geforce4 MX 440

2002

Radeon 9800 SE

2006

(Running Latest Omega Drivers)

Input

Keyboard:

Logitech Internet Navigator

2003

Microsoft Digital Media Pro

2007

Mouse:

Logitech MX 500

2002

Microsoft Comfort Optical Mouse 1000

2007

Storage

Hard Disk Drives:

Western Digital Caviar SE (80GB)

2006

Maxtor DiamondMax (20GB)

1999

External Media:

CD: LG GCE-8525B CDRW 52X32X52x

2002

Floppy: removed

1999
---
Software
---
Below is a list of software I use / support. It's more of a personal list, but can benefit others. :D
General
Instant Messaging
ICQ

1996 - 2001

MSN / Windows Live Messenger

2001 - 2012

Skype

2012 - 2015

Discord
Music
---
Active Worlds
AW Enhanced: Essential software; makes Alphaworld stomach-able.
Chatbot: Basic chatbot.
YASBB: "Yet Another Survey/Building Bot", great for quick object updates that would normally be a repetitive, boring task.
Modeling
See also
---