Description
---
This is a pack of facade walls arranged in a mix-n-match system. You can quickly build facade structures by piecing it together with these prefab walls. It is not intended to be a "dump and done" system, but more like a starter kit. You can dump in the prefab clumps and then tweak it, such as adding and readjusting and retexturing the style. There are 5 components in a facade:
Wall with doors
Regular walls for base section
Regular walls for upper section
Walls with windows for base section
Walls with windows for upper section
Walls are 10m long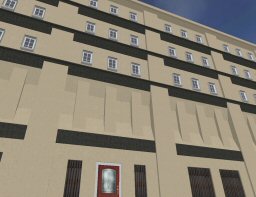 Base Object Instructions
---
Place the base object in the center of where you want the wall to be. The walls are 10m long, so position the base object's axis point 5m away from adjacent walls. To start the next story up, just move the base object up (usually 5m), resting it ontop of the lower wall.
Some clumps are designed to be used with trimming, to fill in the holes.
All walls use a stock texture - rock2 - so texture customization still needs to be done manually.
Download
---