Description
---
This pack includes a standard issue Robonugget, made famous on the cover of Nougat Breeder Weekly magazine in 2004. Now you can own your very own Robonugget, the pet of the future!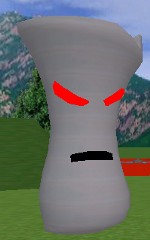 Base Object Instructions
---
Place the base object where you want the center of the Robonugget to be. Use a small object, like a pole1m.rwx, to place Robonugget precisely on surfaces like tables or desks.
Download
---