Description
---
This is a set of modular, under construction walls you can piece together to form construction sites. Due to their ease of use and disposability, these are perfect for marking out building plots that will likely not be filled with a real building for awhile so that your under developed areas don't have to look so barren.
Walls are 10m long
Corners are 5m long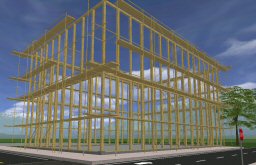 Base Object Instructions
---
For walls, place where you want the center to be. For corners, place where you want the corner to be. It is recommended you build the corners first.
Download
---