SW Army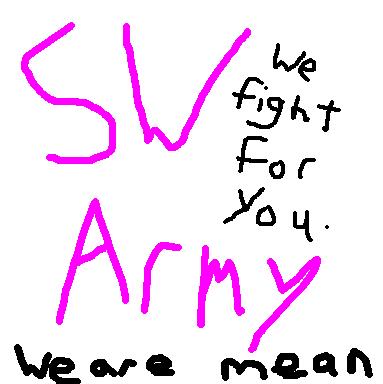 Official Name: SW City Army
Active Duty: unknown
Headquarters: Caturn Island SW Army HQ
Overview
---
The SW City Army (commonly referred to as "Swarmy") is the official government controlled and funded defensive organization. There are three departments within Swarmy: Naval, Army, and R&D.
"We are mean."
- SW Army Logo
Naval Branch
---
The Swarmy naval branch is responsible for:
Naval missions
Oceanic defensive
Border patrols (via water)
Naval seaport administration
The navy primarily deals with gunships, frigates, helicopters, and various tactical missile ballistics.
Army Branch
---
The Swarmy army branch is responsible for:
All forms of defensive and offensive missions, except naval
Covert-Ops
Intelligence
Homeland security
Border security
Base administration
The army primarily deals with all forms of armored groundcraft, mechas, all forms of aircraft, as well as armored infantry.
Research and Developement Branch
---
-Elliony Trench Exploration Photo (Swarmy)
The Research and Development (R&D) branch is responsible for:
Researching technologies useful to the SW City Army.
Manufacturing their products for the other two branches, whether directly or indirectly.
Working closely with the other two branches with experimental technology.
Exploring and researching extremely inhospitable areas, such as Norlisk Island and the Elliony Trench.
Experimental weapons testing and demonstration.
Locations of Operation
---
The Swarmy is known to operate out of a few places, many others are sure to be hidden from the public eye.